How BeWhere's Asset Tracker Will Save Your Business Time and Money
How well do you track assets like equipment or tools – the very lifeblood of your daily operations?
Do you track manually or only half-heartedly? Perhaps you don't do much tracking at all.
Here's the thing: poor asset management is costing your business (think: misplaced equipment, loss of equipment, theft, inefficiencies, unplanned maintenance, etc.). And that's exactly why we want to introduce you to BeWhere's complete asset tracker solution.
In short, BeWhere's beacons are essentially GPS trackers for your assets.
What makes BeWhere's asset tracking solution particularly noteworthy, however, is that it's low cost and easy to install. On top of that, it's known for its battery longevity.
This blog post will take you through the benefits of asset tracking, how BeWhere's complete asset tracking solution works and why you need it.
How Asset Tracking Can Save Your Business Time and Money
Now, if you've heard anything about the revolutionary benefits of mobile IIoT (you likely have), asset tracking is one extension of how businesses are using IIoT to improve efficiency, productivity, safety and more.
Whether you're in transportation, construction, service, food and beverage or even farming, poor asset tracking means you're putting the very assets you invested in at risk.
But this is only part of the problem.
Poor asset management leads to inefficient daily operations and costly downtime as well as unnecessary corrective maintenance costs. The bottom line? It can result in catastrophic financial losses for your business.
Here's how an asset tracker – i.e. cellular beacons (more on this later) – can save your business time and money:
Reduce Loss and Theft with Real-Time Asset Location
Your assets are a costly business expense. From heavy-equipment to tools, trailers and so on, beacons make it possible to track their location online in real-time. You can even determine when assets are in/out of range and gets alerts when assets have been left behind (therein improving productivity as a result).
To put this potential loss into perspective, consider that most recent data shows that the Canadian construction industry loses an estimated 46 million every year because of it.
Simply put, asset tracking gives you total control over your assets. You can manage truck, trailer and product on board and even what operator is in the truck. You can even determine what truck is hauling what trailer!
Get the added assurance that goods have been transported (the transportation policy guarantees goods have been transported based on a defined set of rules). All of this information can be viewed via both smartphones and tablets as well.
Remember, too, that the beacons draw very low power, which means that you can count on long battery life to track and monitor your goods. The result? Economical data plans as well.
Increase Operational Efficiency and Productivity (And Profitability).
Again, inefficiency is costly.
First and foremost, manually tracking assets in spreadsheets is inefficient in and of itself. However, the industrial beacons increase operational efficiency and productivity in a multitude of other ways as well.
For example, you can pre-assign assets (like equipment and tools) to vehicles, buildings or job sites. In other words, you can track whether assets are in vehicles, buildings or job sites, therein reducing unnecessary unproductivity because you didn't have the right equipment on site for the job.
Internally, you can also send messages and mark tasks as complete, therein reducing potential delays and improving communication. In fact, you can automate inventory pick-up and drop-off times (and time stamp the process) for added assurance.
Do you have vehicles or personnel that travel between different locations? You can travel with the beacon and record arrival and departure times as well.
Reduce Costly Corrective Maintenance
This is a big one. Unplanned repairs disturb daily operations and cost your business, not only in terms of the repair expense but in the loss of productivity.
That's why an asset tracker is critical. It notifies personnel when equipment is due for maintenance/service, therein ensuring that equipment receives the preventative maintenance it needs.
The result? A reduction in downtime associated with unplanned maintenance. Additionally, preventative maintenance extends the lifecycle of your equipment and tools as well, resulting in a greater return on your assets.
Ensure You're Complying with Transport Requirements with Real-Time Information on Goods via Sensors
Sensors provide a variety of information about the status of your goods, therein allowing you to ensure you're adhering to transport requirements (and get relevant alerts when you're not).
For instance, temperature sensors allow you to determine if the product/equipment was stored properly. For dangerous goods transport, you can determine whether your goods have been exposed to light. The battery sensor allows you to determine the battery level.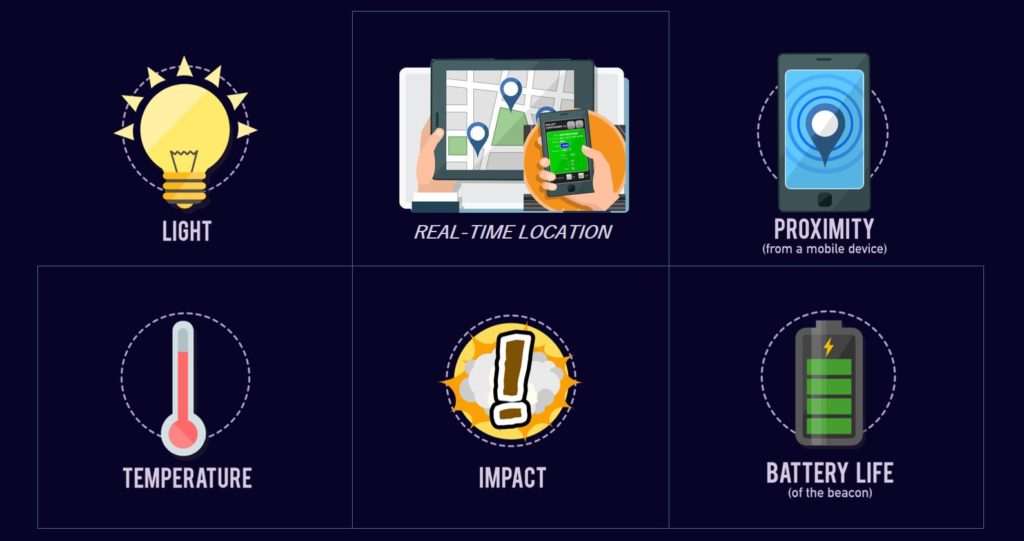 The sensors are protected by industrial-hardened packaging as well.
Furthermore, it offers insight into how your assets are performing and ultimately how they can be operated in the most efficient manner.
Given that personnel can be notified when equipment is due for maintenance/service, the secondary benefit of this is that it leads to a higher level of safety for all involved as well.
Many governmental agencies, organizations and other companies are required to provide reports on how they acquire, use and dispose of assets. Reporting may also be required by insurers or other financial lenders. Whatever the case may be, an asset tracking system makes reporting easy, saving you valuable time.
Easily Locate Misplaced Tools (Stop Buying Duplicate Tools Unnecessarily)
This is another big one. Think about how often your team misplaces tools that are needed for certain jobs. This is particularly true for small but costly tools on construction sites.
If employees can't find the tools they're looking for, many simply go out and purchase them unnecessarily. These costs add up and, again, hurt your bottom line.
How the BeWhere Beacons Work
The BeWhere industrial BLE beacons are the latest in technology when it comes to asset tracking.
The best part? They're low-cost and highly affordable. In fact, this solution is one of the most cost-effective GPS trackers on the market today.
Here's the other thing: asset tracking isn't difficult, costly or time-consuming to implement (at least with BeWhere beacons). So, why wouldn't you safeguard your assets?
With 35+ years in the mobile, GPS and telematics industry, BeWhere leverages the latest in technology while still being cost-effective.
They're also incredibly rugged (IPP66 which means that it's water and dust-resistant) with up to 10 years of non-rechargeable battery life.
But, how do they work?
BeWhere is an LTE-M SIM-enabled tracking solution. This is the process by which it transmits data to the cloud.
Specifically speaking, hardened devices are attached to your assets. These devices collect data, which is then transferred through cellular networks to Bewhere's secure cloud platform.
Keep in mind that the devices are easy to install on your assets and don't require any specific configuration. In fact, you can attach them with screws, zip ties or even adhesive tape.
Wrapping It Up
Asset tracking is an extension of mobile IoT, helping businesses improve efficiency, safety and reduce unplanned maintenance.
Asset management is a must for businesses, whether you are in transportation, construction, emergency services or just about any other industry with assets on the line.
The bottom line is that you have to protect your assets. With an asset tracker, you can reduce loss (including misplaced tools/equipment) and theft as well as improve efficiency, productivity and mitigate potential financial losses from unplanned maintenance.
The best part? The Bewhere beacons are highly affordable and among the most cost-effective GPS trackers on the market today.
If you're not yet convinced, ask yourself: can your business afford to take the risks that come with not keeping a tight hold on your assets?
Likely not.
For original post, please click here.